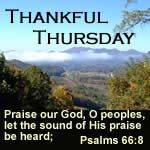 I am thankful:
We are starting to warm up here in Florida and that we should have blue skies this afternoon.
That my son likes soccer, I was really worried this would be a Taekwondo incident, where he went one time hated it and we were out fifty to hundred bucks…
Yay he loves it so far.
That it is almost Spring Break, I need a week of doing whatever we want.
For my husband and son, they are the best and I am so glad they are enjoying this new sport together.
What are you thankful for, head over to Greg's General Store and link up.
Don't forget to check out the Giveaway @ Robins